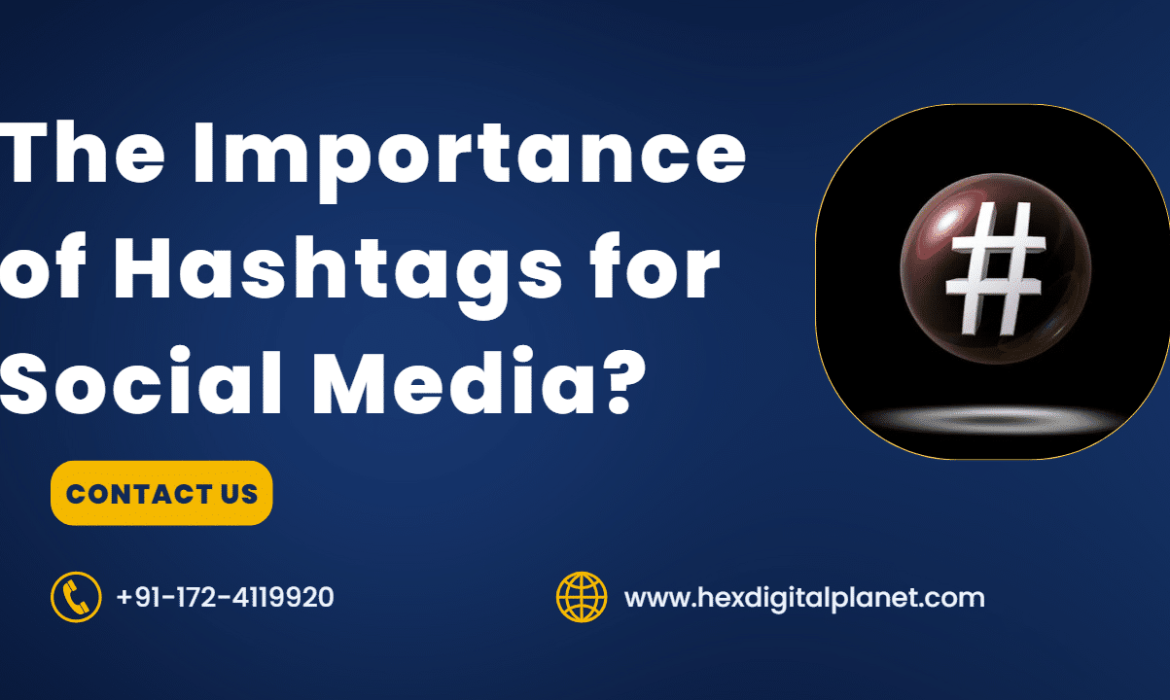 Why HashTag is important in Social media?
From Twitter to Instagram, hashtags are essential for staying connected and finding what you need. Hashtags for social media are not just for trends and identifying topics, but also for building relationships, reaching new audiences, and understanding how to become an influential voice in a crowd. Whether you're trying to reach a wider audience or simply sharpen your online presence, learning the basics of hashtagging can help you make the most out of social media. In this blog post, we'll explore why hashtags are important in social media and how they can help boost your visibility.
What is a Hashtag?
A hashtag is a word or phrase, with no spaces, used to identify messages on a specific topic. They are used on social media sites such as Twitter and Facebook. Hashtags for social media are created by putting the number sign "#" before a word or phrase.
For example, if you were attending a conference on social media, you might use the hashtag #socmedconf to follow and contribute to the conversation about the conference on Twitter. Likewise, if you were interested in following conversations about the Super Bowl, you could search for #superbowl on Twitter.
History of the Hashtag
The history of the hashtag is long and varied, but it all started with a little-known social media platform called Twitter. In 2007, Twitter user Chris Messina proposed using the pound sign as a way to group related tweets together. And so, the hashtag was born.
Hashtags quickly caught on as a way to categorize and find information on Twitter. They were particularly useful during events like natural disasters or breaking news stories when people needed to find information fast.
In the years since hashtags have become ubiquitous across social media platforms. Facebook, Instagram, and even LinkedIn all support hashtags. And while they originally started on Twitter, hashtags are now used more frequently on Instagram than any other platform.
Hashtags have also become a part of popular culture. They're often used in marketing campaigns and can be found in songs, TV shows, and movies. Even politicians have gotten in on the action, using hashtags to reach out to voters during election season.
Why are Hashtags important?
Hashtags are important because they help to promote and increase the visibility of your content on social media. When you use a hashtag, it allows people to find your content more easily and also makes it more likely to be found by people who are interested in the same topic. Hashtags can also be used to start or join conversations on social media, which can help to build relationships with other users.
How to use Hashtags?
Hashtags are a great way to connect with other people on social media who share your interests. By using hashtags, you can find and follow conversations about topics that interest you and join in on the discussion. Here are some tips for how to use hashtags:
Use relevant hashtags. When you're posting about a specific topic, use hashtags that are related to that topic. This will help people who are searching for information on that topic to find your post. For example, if you're sharing a recipe for homemade pizza, you could use the hashtag #pizzarecipe.
Keep it short and sweet. Hashtags should be short and to the point – don't use too many words or characters. People searching for posts with a specific hashtag will be more likely to find yours if it's easy to read and remember.
Use capital letters sparingly. Using all capital letters in a hashtag makes it difficult to read, so use them sparingly. If you do need to use all caps, consider using CamelCase (capitalizing the first letter of each word) instead of all lowercase or all uppercase letters.
Don't overdo it. Using too many hashtags in a single post can make it difficult to read and can make you look like you're trying too hard – stick to 1-2 relevant hashtags per post.
By following these tips, you can make
The do's and don'ts of Hashtags for social media
Hashtags for social media are a great way to connect with other people on social media who are interested in the same thing as you. They can also be used to start or join conversations about hot topics, current events, and more. However, there are some things you should keep in mind when using hashtags.
DO: Use hashtags that are relevant to your content and audience.
If you're a business, you'll want to use hashtags that relate to your industry or product. For example, if you sell eco-friendly home goods, you might use hashtags like #greenliving or #sustainability. If you're a food blogger, you might use hashtags like #foodie or #recipeoftheday. And if you're just sharing your life with friends and family, you might use something more general like #instadaily or #photooftheday.
Don't: Use too many hashtags for social media.
While it's important to use relevant hashtags, don't go overboard. Using too many hashtags can make your posts seem spammy and can turn people off from reading them. Stick to one or two relevant hashtags per post.
DO: Use popular hashtags sparingly.
If you use a popular hashtag like #love or #tbt (throwback Thursday), your post is likely to get lost in the sea of others using the same tag. But that doesn't mean you should never use these tags.
Conclusion
Hashtags are an important part of social media and can increase the reach of your posts. Hashtags for social media help categorize content, make posts more visible, and connect with like-minded people. If you're looking to maximize your visibility on social media, adding hashtags to your content is a must! Developing a strategy around hashtag use is essential in order to use them effectively and draw attention to your posts. With a little practice and research into which hashtags work best for what kind of content, you'll be able to leverage the power of this valuable tool in no time!